Wall Cladding
with EVER ART BOARD®
True-to-nature finish, weatherproof and almost infinite possibilities
EASY TO CLEAN AND LONG LASTING
MAINTENANCE-FREE SOLUTION FOR WALL CLADDING
Stunning to look at, our high-quality laminated aluminium wall cladding not only impresses with its appearance, but it's extremely robust and maintenance-free. Enjoy diverse design alongside enormously low maintenance. Our aluminium wall cladding does not rust, does not break and is weather-resistant. With TAKASHO we guarantee 10 years with no fading colours and no tearing of the composite panels. Discover our high-quality products for yourself.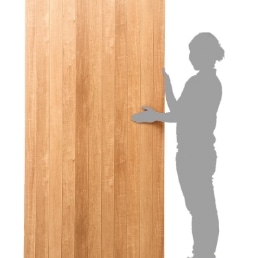 Nature is our model. All surface designs are replicated from natural materials, with a realistic appearance. Our composite panels will inspire you and enhance your outdoor space.
Our aluminium composite panels are so easy to handle and can be applied anywhere, indoors and outdoors. They inspire with both their functionality and high-quality appearance. They're suitable for new buildings and existing properties too.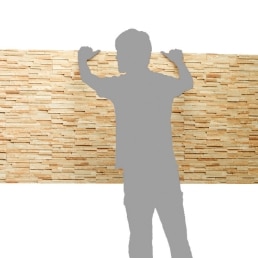 We put 40 years of understanding the needs of outdoors products into our designs. Coated with a weather-resistant film, our composite panels are resistant to environmental influences.
Composite panels are quick to put up and flexible in use. The panels can be cut to the desired size with a simple cutter knife.
PHOTOREALISTIC LAMINATED ALUMINIUM COMPOSITE PANELS
Aluminium composite panels: look like the real thing
Enjoy aluminium composite panels that inspire with their natural representation of wood, metal or stone. The surface matches the natural elements, emphasising the same look and touch as their natural counterparts. Our realistic wall cladding aluminium composite panels enhance the appearance of your home and create a cosy atmosphere. Experience a modern metal look, more traditional stone structure or deceptively real classic wood-look wall cladding.
DESIGNED FOR CONSTRUCTION
Lightweight & easy to manoeuvre on site
Aluminium composite panels are light and easy to handle on the construction site. This speeds up work processes and saves valuable construction time. The easy handling as well as the stability and reliability of the panels also enable smooth transport and effortless assembly on site.
Aluminium composite panels
| | |
| --- | --- |
| B×H | 910 × 1820 mm |
| T | 3.0 mm |
| kg | 4.0 kg |
Aluminium composite panels
910 × 2440 mm
3.0 mm
5.4 kg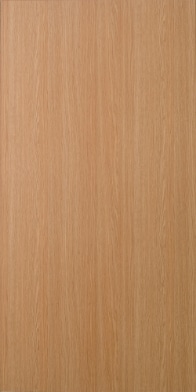 1000 × 2000 mm
0.6 mm
1.0 mm
2.0 mm
3.2 kg
5.4 kg
10.8 kg
INDIVIDUAL WALL CLADDING: UNLIMITED POSSIBILITIES
Get creative on walls or ceilings, outdoors or indoors
Our versatile composite panels offer endless possibilities to immerse your space and create that individual look.
Creative cladding on a façade, opens up a range of new design possibilities. Aluminium wall cladding delivers contemporary inspiration. So, regardless of whether it is facade cladding made of aluminium composite panels, aluminium wall cladding inside or outside wall cladding, you'll enjoy unlimited design possibilities.
Change your style to stylish
Transform the traditional into stylish and modern & dark into light
Choose from a variety of designs and easily create a completely new look with our aluminium composite panels. Not only indoors, but outdoors too.
Change the style of your property. The aluminium composite panel façade will turn heads thanks to its appearance, durability and resistance. There are no limits to your creativity.
ALUMINIUM COMPOSITE PANELS: PERFECT CONSTRUCTION MATERIALS FOR RENOVATION
Create your new look without altering the existing building structure
Aluminium composite panels are not only ideal for new buildings, they are also great for renovations. Aluminium is a lightweight yet unbreakable building material. It's recyclable, durable, corrosion-resistant and easy to work with. With a weight of about 2.5 kg per square metre, it's easy to install our aluminium composite panels.
Easy and quick installation everywhere
ON WALLS, CEILINGS, OUTDOORS AND INDOORS
The composite panels offer several options for installation. They can be installed either directly on the wall, on a free-standing frame or a foundation frame.
EVER ART BOARD - PANEL INSTALLATION
Mounting Options and substructures
MOUNTING DIRECTLY ON THE WALL
If the surface is smooth and even, the aluminium composite panels can be mounted directly on the wall. For this, dowels, self-drilling screws, liquid adhesive, double-sided adhesive tape and a fastening strip are required.
USING THE FOUNDATION FRAMES
If the surface is not even, use a foundation frame. In this case, liquid adhesive, dowels, self-drilling screws, double-sided adhesive tape, fastening strips and an aluminium substructure are required to fasten the aluminium composite panels securely.
DIRECTLY ON AN INDEPENDENT FRAME
If the aluminium composite panels are being fixed on a free-standing frame, for example as a room divider or privacy screen, the following materials are required – liquid adhesive, dowels, self-drilling screws, double-sided adhesive tape, fixing strip and a free-standing frame.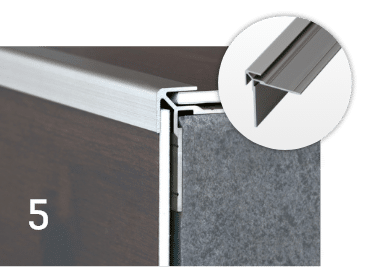 EVER ART BOARD - PANEL INSTALLATION MATERIALS
We've created a range of mouldings and rails that enable the best fitting. Our rails deliver safe and secure connections between the individual composite panels (composite mouldings), optimal corner termination (corner composite moulding) as well as at the edge of the aluminium wall cladding (end moulding).
EASY CLIP RAIL - INSTALLATION
EASY CLIP RAIL - Quick Installation for ceilings
The clip rail helps with difficult work, such as at the edge of a ceiling panelling. The base of the clip rail is made of heat-resistant PVC and the clip cover strip is made of aluminium. 
Clip rails can be used for quick installation, in only three steps. First, the clip base is installed, then the EVER ART BOARD is inserted and finally the clip cover strip is installed. The clip rails are available in different colour variations, so the rail can always be matched to the board.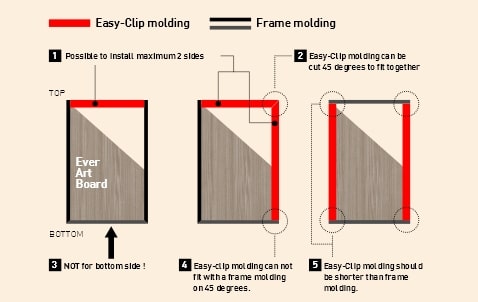 INSTALLATION METHOD FOR SMOOTH FLAT SURFACES
Clip rails and composite strips are used for installation on smooth and flat surfaces. Clip rails can be installed on two sides at the same time. A composite strip must be installed on the underside of EVER ART BOARD®.
EVER ART BOARD - TEXTURED INSTALLATION MATERIALS
Create different looks with textured rails. The textured finish gives the overall look more naturalness. You can achieve a high-contrast look by using different colours and tones.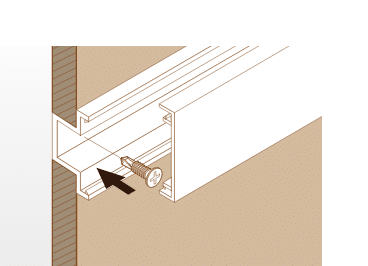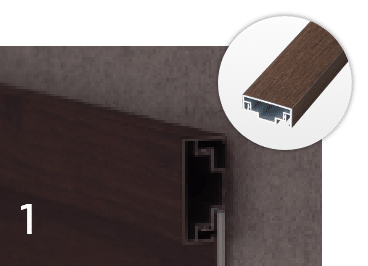 With aluminium design panels, you can build striking interiors and exteriors that look nothing less than stunning. Use creative lighting techniques to build a modern and cosy atmosphere. The high-quality workmanship of each design panel delivers stability and durability too.
Imaginative and individual motifs
Thanks to our panels you can design each room or façade individually and with imaginative motifs applied. Laser technology means unique patterns are cut precisely into our aluminium composite panels to create eye-catching designs that you can build into your room. Our panels can either be free-standing or installed on a wall. Whichever way you choose, they'll create special accents around your home.
Company logos are elegant and stand out, creating the perfect opportunity for your business to present itself in a professional way.
The Design Panel is available in two standard sizes. The larger model (width 1140 x depth 3 x height 1760 cm) is ideal for large rooms or wall surfaces. In smaller rooms or gardens, the smaller version is more effective (width 600 x depth 3 x height 1265 cm). Our panels are high quality and deliver stability and durability too.
Deliberate contrasts stylish effects
Available in three colours. The deep black (black) creates a stylish yet mysterious atmosphere that conveys independence and strength. Black is good for creating strong contrasts. The light grey colour (shine) conveys lightness and light-heartedness. This light colour is often associated with purity, order and wisdom. The copper colour (copper) radiates a warm mood and gives the space a vintage feel.
DESIGN PANELS - INSTALLATION
Easy installation with Assembly sets
Panels are quick and easy to install. Plus, with our mounting sets, you can start right away. The spacers for fixing the panels can be purchased either as a 4-piece set or as a 6-piece set.
 Choose your assembly set depending on the size of your Design Panel. For 1140cm wide panels you'll need a set with 10 screws (type B1140). For smaller panels, sets with 4 screws are sufficient (type B480 and type B600).