LAMELLA FACADES
with EVER ART WOOD®
A look that's true-to-nature, weatherproof and individual
DESIGNED TO BE VERSATILE:
Ideal for all types of facades
Give your home personal character and an attractive façade with our high-quality louvred cladding.
Louvre walls not only visually enhance façades, they also protect them from rain, wind and vermin. At the same time, they are air-permeable and allow the house walls to breathe. They shield street noise and create better acoustics.
Horizontal slats make narrow houses appear wider and convey a sense of calm. Vertical slats, on the other hand, stretch the house and have a stabilising effect. The high-quality slats are suitable for all types of façades and can be made to measure.
Our louvre systems are weather-resistant, maintenance-free and easy to clean.
Discover the warmth and feel of wood, but with the robustness of aluminium. Embossed grooves give the aluminium a three-dimensional appearance. Modern embossing and manufacturing processes create authentic and beautiful surfaces. The wood reproduction is elaborate, producing a realistic appearance.
Laminated materials are more durable, weather resistant and generally resilient to poor conditions. And because appearance is everything, we create a seamless transition between the films during the lamination process, producing a single, discreet overlap.
Over 40 years of experience and quality go into our work. Our slats have a long life, are designed to be weather resistant and will stay looking great for years. We guarantee only the highest quality and all surfaces come with a 10-year warranty.
We created a diverse colour selection, one that's a faithful reproduction of the natural materials they replicate. The different brightness levels and nuances can match any façade and create a uniform look. The textured surface creates realistic plays of light and shadow.
Natural looking, photorealistic laminated aluminium profiles
Façade cladding: aluminium slats
Our louvred cladding is not only functional but also a stunning design element that reflects your style and the building's character. From wood to metal to natural touch, we created photorealistic laminated aluminium profiles that match every type of house and every façade colour.
Plus it gives your house a stunning appearance and is a long-term value investment in your property.
To achieve harmony between the building and the louvre façade, the colours, structures and materials should carefully match the architectural style. And whether you're after a cosy wood look, a modern concrete look or a high-impact stone look we can help.
Façade louvres for your every need
Lightweight, smooth installation and easy matching profile sizes
Thanks to a range of different designs and a variety of different profile types our louvres really stand out. Whether square, rectangular or rounded, profile sizes are matched perfectly to your requirements. They are lightweight and easily installed.
The profile thickness affects the sound insulation as well as thermal values and choosing the right one is key. We also offer profiles with modern lighting solutions, for example columns with attractive foundation frames.
Choose patterns, combinations, shapes and sculptures
A variety of designs for your perfect louvre façade
Open the door to the world of creativity. Our wide range of façade cladding makes it easy to implement an enormous variety of designs and create the environment you want. Create different shapes and figures from the aluminium slats and our realistic reproduction of different materials such as wood, stone, metal or plaster will give your building a special appearance. The aluminium louvre façade is also easy to install and easily adaptable to your building's architecture. It's lightweight, stable, durable and weather resistant too.
Versatile Facade Systems (C/U/CT)
Easy installation, optimal preparation, shorter installation time, minimum visible screws
Louvre façade with matching C-System
Fast and flexible assembly
Thanks to the click system installing the façade cladding is quick and easy. The individual elements can be connected to each other in a variety of ways to create the look you want, whether it's a new construction or renovation projects.
Our click assembly is flexible, time-saving and cost-efficient. Powerful click connections offer high strength and excellent support. But it's been designed to be beautiful too, so the connecting fittings aren't visible.
Make fine adjustments with the u-system
To achieve visually perfect results, the correct alignment of the louvres is so important. We designed our systems to be easily fine-tuned. This system means the louvres can be precisely positioned, so your façade's aesthetics are perfect.
U-SYTEM - ALUMINIUM LOUVRED FAÇADE
U-System - Precisely prefabricated for precise alignment on site
For each project, we design individual elements to fit exactly. This makes exact alignment of the elements during assembly on site easy too.
This manufacturing excellence results in beautifully designed façade cladding that's built with unforgettable precision. The aesthetics combined with the structural stability inspires imagination.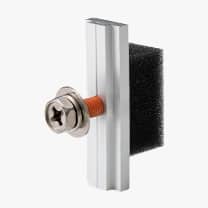 Sponge plugs to assist with fixing during alignment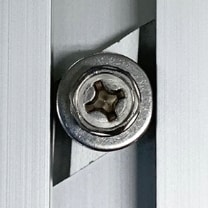 Retaining clip for smaller profiles
Retaining clip for large profiles
U-SYSTEM - AVAILABLE CROSSCUTS
Large selection of decors and profile sizes
Our wide range of profile sizes and décor means you get the design you want. High-quality surfaces, lifelike reproductions and coordinated colour nuances create a distinctive, aesthetic beautiful design.
From a distance the effects of the louvered cladding are stunning. Different profile types and sizes can also create additional benefits such as thermal insulation and noise reduction.
Louvre cladding with the CT-System
Every profile option, specially prefabricated to fit
The CT system is as simple as it is magnificent. The individual elements fit into each other like a lock and key. The T-shaped components are fixed to the wall and form the base for the C-shaped fixings. Just fix the profiles for the façade cladding to the C-cover and then connect this to the T-beam element. Our system delivers excellent stability and is enormously durable.
CT-SYSTEM - MOUNTING SUPPORT FOR LOUVRE FACADES
CT-System - almost limitless possibilities for the design
A true-to-nature look, weatherproof and almost endless design options
With different profiles, colours and structures, you'll experience limitless design options.
The high quality of the lamella wall cladding delivers strong mechanical resistance and impact-resistant surface. It's scratch and stain resistant, colours won't fae and it holds up against adverse weather such as frost. We put the highest demands on our exterior louvre wall cladding to stand the test of time.
Light and flexible mounting for aluminium louvres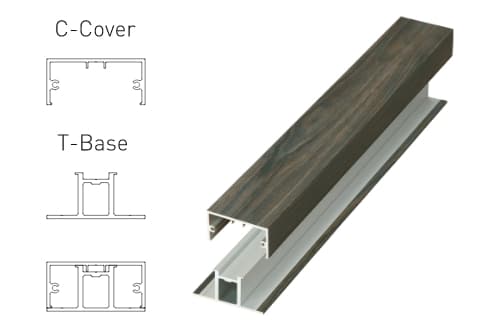 C-COVER AND
T-BASE SUPPORT
Two components lock together to form a stable unit. It's a smart and time-saving assembly that makes mounting easy and it's suitable for all types of substructure. Our mounting system also delivers total design freedom so you always get the look you want.
Our experienced experts can install the louvred cladding quickly and easily on any wall. It's a long-lasting basis for any type of slat.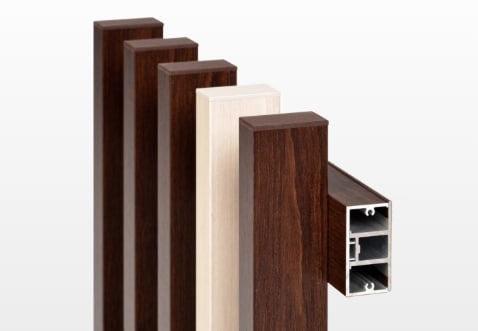 NO VISIBLE SCREW CONNECTION OF THE PROFILES
To keep the stunning aesthetics of your slats, the screws are designed to be hidden. This creates a uniform cladding that is visibly free of screws or drill holes. This creates a special appearance and adds to the building's stylish look.