Flexible standard design or individual style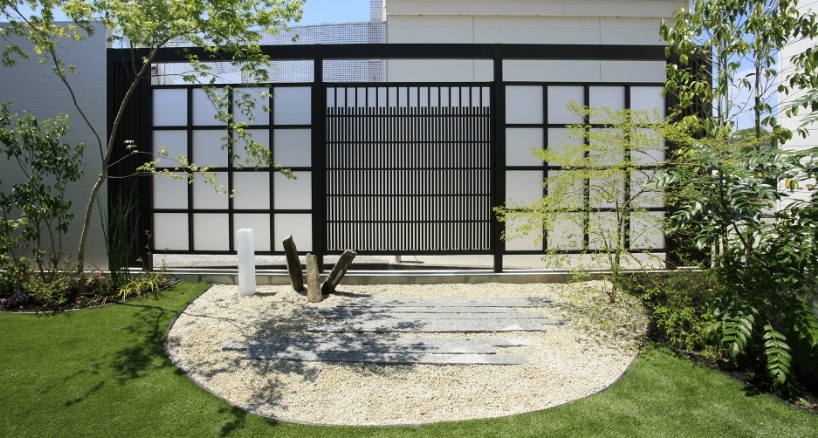 CUSTOMISE YOUR STYLE WITH OUR PREMIUM PRIVACY SCREENS
INDIVIDUAL STYLE WITH CLASSIC PATTERNS
Get that individual style in your garden. Whatever your preferred style of design, our extensive range of privacy screens are perfect for a range of requirements. A stunning collection of unique designs and materials, such as aluminium fencing, our screens are both high quality and will give your garden the look you want.
MODULAR CONSTRUCTION, INDIVIDUAL DESIGN
The products of the EVER SCREEN series create optimal privacy protection, but with airiness and light at the same time. These modern privacy screens embody typical Japanese style and despite the lightness and openness, robust construction offers excellent stability and is suitable as a modern privacy screen for all. Modern, yet timeless – that is EVER SCREEN.
EVERSCREEN – SPECIAL DESIGN OPTIONS
Experience the high quality and stunning designs of our aluminium privacy screens. Composite panels are precisely cut, with striking design details, that create a pleasant atmosphere in your garden. These designer privacy screens are durable, impact-resistant and hardwearing against any weather conditions.
Experience a piece of authentic Japan style in your own garden. Thanks to the light and airy appearance, our aluminium fencing never looks too bulky and won't make the garden feel small. Our modern privacy screens give the surroundings a Far Eastern aesthetic and elegance and are particularly suitable for small gardens.
INDIVIDUAL, AIR & LIGHT PERMEABLE
A PERFECT FIT INCLUDING FUNCTIONALITY
Our aluminium fencing not only has an unforgettable and individual look but it's super effective thanks to the functional design. Aluminium fence battens are extremely robust and durable, while small gaps between the fence battens allow for good air and light permeability. Our aluminium wood-look privacy screen creates a cosy and homely ambience and is also very easy to maintain.
BATTEN FENCE - DESIGN OPTIONS
Flexible design and functionality for every requirement
Enjoy our single-sided picket fence, with its classic and simple style. Individual fence slats are attached to one side of the crossbars for fuss free fencing.
With the two-sided picket fence, the slats are attached to both sides of the crossbars. This aluminium fencing style is both striking and stable. The successive bars create a calming effect and is endlessly fascinating.
A curved picket fence lends harmony to the surroundings and has a relaxing effect. It's also great for decorating smaller areas. Inside the garden, curved picket fencing can be used to highlight certain areas of your garden as well as giving them a Far Eastern charm.
Choose your individual spacing
Small or large spacings? You decide. Depending on what you need, you can determine the distance between the individual fence slats. If your fence serves as a boundary for the property, larger distances are ideal. If you want an effective privacy screen, installed your fence slats with a smaller distance between them.
CUSTOMISE YOUR FENCE DIMENSIONS
You can select your own picket fence height, from between 1.2 to 2.4 m. For good visual protection and screening, your aluminium fencing height should be between 1.6 and 1.8 m. For a stunning boundary, position your aluminium picket fence around 1.2 m high.
PERFECT FOR THE FRONT GARDEN
EXTENDABLE SYSTEM WITH FELXIBILITY
Our slat fence offers an excellent option for privacy and protection but won't cover the beautiful façade of the house unnecessarily. It's friendly and inviting, especially in the front garden. It's robust, yet light and modern in appearance. The horizontal or vertical alignment creates a stylish look and matches any building perfectly. If you have a terrace, our slat screen options sufficiently protect you from prying eyes and still invites those cosy summer evenings with friends and family.
Aluminium slats not only offer good protection, they also give your garden a unique character and appeal thanks to their elegant, straight-lined look. The variety of designs and easy installation make our slat system a great choice. It is also maintenance-free and weather-resistant. Thanks to the acoustic properties of our slat privacy screen, you're shielded from street noise and you get better acoustics inside your outdoor space. Create an oasis of peace and relaxation with EVER ART FENCE.
EVER ART FENCE – DIMENSIONS
Fully flexible system with 4 standard sizes
The slat privacy screen comes in 4 standard sizes – 0.54m, 0.72m, 0.92m and 1.2m. It's a flexible system can that be extended in height as well as in width to adapt perfectly to your needs at any time.
EVER ART FENCE - MODULES COMBINATION
Stackable up to 3m height
Individual elements can be stacked up to 3 metres so you can quickly and easily design the height of this aluminium fencing according to your wishes. Excellent quality as well as lifelike replication of natural materials creates an aesthetic, modern design.
AIR CIRCULATION AND OPTIMAL PRIVACY
More than 40 years of experience go into the design of our privacy screen solutions. As well as stunning designs, there are many functional advantages too. They provide optimal privacy from passers-by and passing cars, and they allow good airflow while maintain wind resistance and good light permeability. Light is key with slatted privacy screens, as it plays an important role especially in smaller gardens.
Louver fence with 6 settings
The 6 settings on our louvered privacy screens means you decide whether you want to protect yourself from the sun, wind or dust. Choose more light or more ventilation. You can change the position of the louvers, from closed to open (10° to 90° angles). This customisable opening allows you to adapt the screen to your needs depending on the conditions. This flexibility doesn't come at the expense of strength. The slat privacy screen is weather-resistant, stable and durable.
Made of high-quality laminated aluminium, this modern privacy screen is not only absolutely opaque, but also robust, maintenance-free and extremely light. With a weight of around 2.5 kg per square metre, our aluminium privacy panels are quick and easy to install and versatile. What's more surface structures stunningly imitate natural materials such as wood, metal or stone and delight with their photo-realistic effect.
EVER ART BOARD fence with modular system
Because they are modular by design, our modern privacy screens can be installed quickly and easily. The individual elements are connected to each other by strips and rails, and both the width and the height can be easily adjusted. You create a customised privacy screen and, combined with the enormous variety of designs, you get a totally unique and personal environment. Combine wood with a stone look and set metallic accents. Let your creativity run free or our experts will be happy to help you bring your ideas to life.
EVER ART BOARD fence with Substructure
If you need a substructure, the individual panels can easily be mounted directly on a free-standing frame to form a stable structure that's long-lasting. This creates modern privacy screens in your garden that will delight you for years to come. From composite strips to the end strip, there's everything you need for installation. Try different strips for a stylish look and increased support where needed.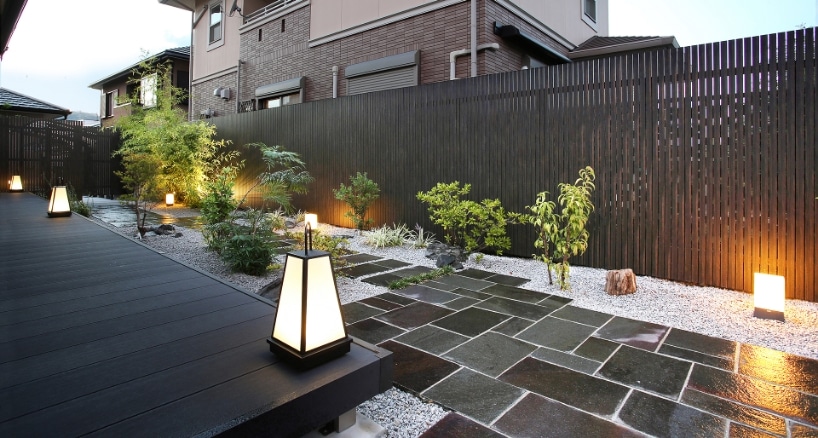 Our privacy fences are versatile, flexible and customisable for all your design ideas. Discover their modern elegance and authentic appearance today. The stunning surface textures create beautiful, subtle shadows that give your privacy screen a perfect finish. The variety of patterns and the nuances of colour mean you can easily build your own bespoke design too.
Our aluminium composite panels are coated with a weather-resistant film and the foil finish ensures all our aluminium fencing has a high resistance to sunlight and rainwater. It's time to get inspired by Japanese garden culture. TAKASHO stands for quality and our products come with a 10-year guarantee.